Corrective Colors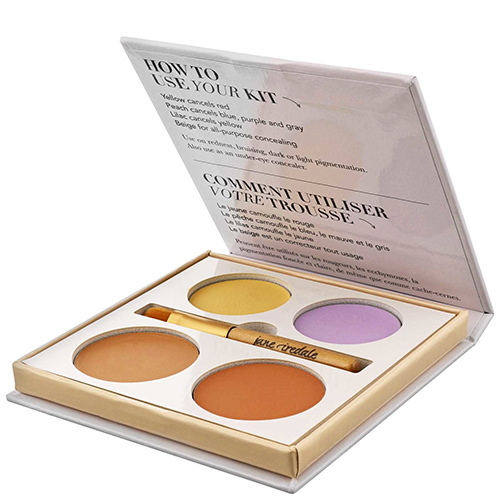 Een professioneel palet gemaakt om alle stadia van blauwe plekken te camoufleren. Dekt ook hyperpigmentatie. Vier zachte kleuren die corrigeren en onregelmatigheden en onvolmaaktheden wegwerken.
Kleuren:
Yellow: neutraliseert roodheden
Beige: multifunctionele concealer
Peach: neutraliseert blauw en bruin-grijs
Lilac: neutraliseert geel
Effent de huidskleur en zorgt voor een onberispelijke afwerking.
Kies de juiste kleur: geel heft rode vlekjes op; perzik heft blauw, purper en grijs op, lila heft geel op. Beige is een concealerkleur die neutraliseert.
Gebruik het alleen of breng in laagjes aan.
Inclusief aanbrengspatel.
Gebruik:
Corrective Colors met onze Camouflage Brush in stipjes of kriskras aanbrengen. Vervolgens PurePressed® Base of Amazing Base® op de gecamoufleerde delen met de Flocked Sponge deppen.
Indien er nog oneffenheden zichtbaar zijn, opnieuw een laagje concealer aanbrengen en afwerken met mineraal poeder. Indien nodig, deze bewerking meermaals herhalen totdat de zone(s) voldoende gecamoufleerd zijn.
Eindig met uw favoriete hydraterende spray.
Vermijd dat er meer aandacht gaat naar hetgeen u juist probeert te verbergen. Het geheim van een goede camouflage is "beter , niet perfect". Bekijk uzelf in de spiegel vanop een afstand van 1 tot 1.5 meter. Als het van op die afstand er goed uitziet, bent u klaar!