LipDrink® SPF 15 Lip Balm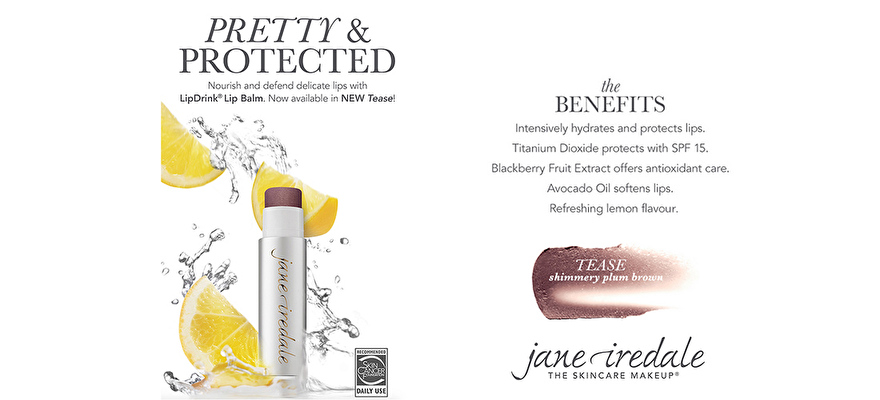 Omschrijving
Deze lippenbalsem is als een ware dorstlesser voor de lippen. Ingrediënten op basis van petroleum zijn uit den boze omdat deze de lippen uitdrogen. Mensen die regelmatig een lippenbalsem op basis van petroleum gebruiken hebben voortdurend last van droge lippen – hoe meer ze zo'n balsem gebruiken, hoe droger hun lippen.
Bevat macadamia notenolie waaraan we het zonbeschermende actieve bestanddeel eetbare zinkoxide hebben toegevoegd voor een SPF 15 en een breed spectrum zonbescherming.
De antioxiderende werking putten we uit het extract van groene thee. Voorts bevat dit product vitamine E en C.
Deze lippenbalsem heeft een heerlijke smaak dankzij een mix van citroen- en sinaasappeloliën.
Deze balsem heeft een betere hydraterende werking dan een traditionele lippenbalsem.
Ingrediënten
Actief ingrediënt: zinkoxide. Ingrediënten: macadamia zaadolie, bijenwas, zonnebloemzaadolie, avocado-olie, carnaubawas, candelillawas, olie uit jojobazaad, extract van aloë vera blad, extract van groene theebladeren, olie uit citroenschil, tocoferol, ascorbylpalmitaat.
Tips
Buisschroefdraad in de kop voor gemak van openen met één hand.
Aantrekkelijke verpakking voor zowel mannen als vrouwen
Toepassing
De LipDrink afzonderlijk gebruiken of een laagje aanbrengen over een Lip Definer of Lip Colour.