PurePressed® Triple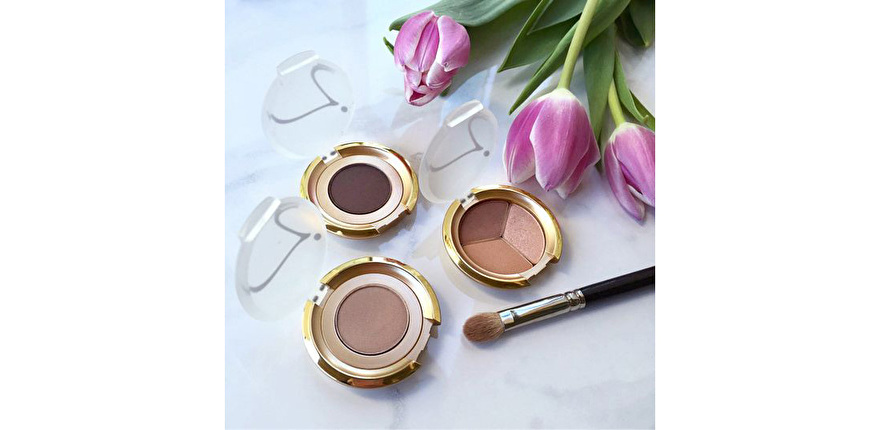 Omschrijving
Een samenspel van drie kleuren voor op het wenkbrauwbeen, de oogplooi en het ooglid. Onze oogschaduwen met hun mooie sprankelende kleuren zijn zeer gemakkelijk aan te brengen. Bovendien zijn ze dermatologisch getest. De oogschaduw blijft onberispelijk lang zitten, loopt niet uit en geeft je een stralende blik.
Mild en geschikt voor gevoelige ogen. Formule op basis van huidverzorgende ingrediënten.
Loopt niet uit en houdt extreem lang.
Kan nat of droog aangebracht worden om om het even welke look te creëren.
Kan gebruikt worden om de oogleden kleur te geven, te accentueren, of om een fijn lijntje aan te brengen.
Ingrediënten
Mica (CI 77019), bismutoxychloride (CI 77163), gehydrateerde silica, dimethicon, Pinus Strobus (denne)bast extract, Punica Granatum (granaatappel) extract. Kan titaandioxide (CI 77891), ijzeroxiden (CI 77489, CI 77491, CI 77492, CI 77499), karmijn (CI 75470), mangaan violet (CI 77742), ultramarines (CI 77007), 24 karaat bladgoud (CI 77480) en chroomoxidegroen (CI 77288) bevatten.
Tips
Verstuif op onze angle liner brush wat D2O™, Balance of POMMISST™ en ga vervolgens met het borsteltje zachtjes door de oogschaduw voor een onberispelijk lijntje rond ogen, de hele dag lang.
Het is altijd een goed idee om met een borsteltje wat basispoeder op het ooglid aan te brengen om een egale huidskleur te verkrijgen en om je huid tegen de zon te beschermen.
Gebruik geen oogschaduw die te dicht bij je eigen oogkleur komt, de ogen vallen dan eerder "weg" dan op. Een aanvullende/contrasterende kleur (bijv. bruin/blauw) zal de ogen beter doen uitkomen.
Heb je last van rode of donkere kringen, vermijd dan blauwe of grijze tinten want hierdoor zullen deze dan nog meer opvallen.
Toepassing
Gebruik onze "eenvoudige oogtechniek".
Breng met onze Eye Contour Brush onze donkerste kleur aan in een zijwaartse V.
Met onze Eye Shader Brush accentueer je het gedeelte boven de iris met een medium kleur.
Om het wenkbrauwbeen te benadrukken, breng je hierop de lichtste kleur aan met onze Deluxe Shader Brush.
Vermeng de kleuren zorgvuldig met een schoon borsteltje om te zorgen voor een zachte overgang.