Highlighter Pencil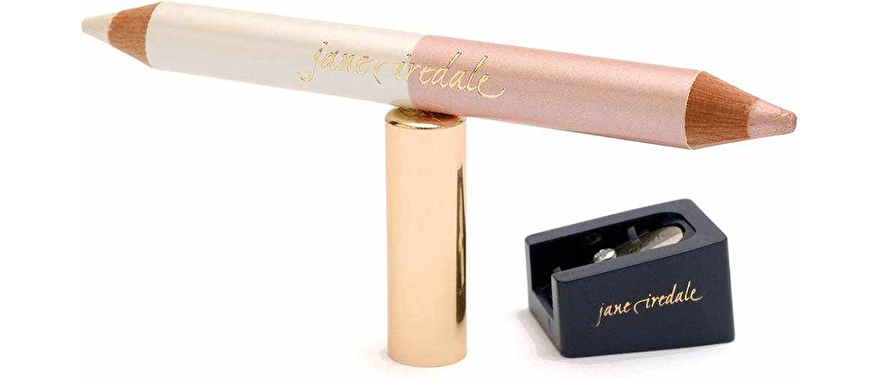 Omschrijving
Vermoeide ogen krijgen geen schijn van kans meer met ons jumbo highlighting potloden. Aanbrengen onder de wenkbrauwen, rond de binnenhoeken van de ogen of over het volledige ooglid. Geeft de ogen een onmiddellijk liftend effect. Inclusief slijper.
Ingrediënten
Olie uit ricinuszaad, candelillawas, octyldodecanol, ethylhexyl palmitaat, olie uit jojobazaad, bis-diglyceryl polyacyladipate-2, carnaubawas, caprylic/capric triglyceride, cetylalcohol, calciumsulfaat, montmorilloniet, bijenwas, tocoferol, ascorbylpalmitaat, tarwekiemglyceriden. Kan mica, titaniumdioxide, bismutoxychloride, ijzeroxiden en karmijn bevatten.
Tips
Dit jumbo potlood met dubbele uiteinden is uitermate geschikt om de ogen extra uitstraling te geven en te highlighten.
Zowel de witte als de roze kleur is geschikt om de binnenhoeken van de ogen te accentueren.
Ook geschikt om de ogen te omlijnen of om het wenkbrauwbeen of de jukbeenderen te benadrukken.
Laat ook de lippen beter en voller uitkomen.
Slijpen is de enige manier om een potlood te reinigen.
Toepassing
De witte kleur aanbrengen op de binnenste oogrand om de ogen groter en helderder te laten lijken.
De roze kleur aanbrengen op de binnenste oogrand voor een zachte en stralende oogopslag. Dit effect komt het best tot uiting bij groene ogen.
Double Dazzle
Durf te overbluffen met dit chique, dubbele jumbo highlighter potlood! Het verguld goud en glimmend koper geven de huid een zachte glans en kunnen gebruikt worden om de jukbeenderen en wenkbrauwboog op te lichten, de ogen te omlijnen en de lippen te accentueren.